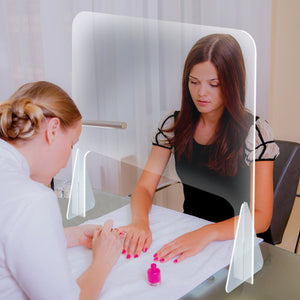 Sneeze Guard Nail Salons Manicure, Acrylic W/Base 24x24H
Includes:

1 clear acrylic shield for counter surfaces, checkout stands plus more
Weighs: 6.88 lbs
Measures: 24 x24 inches
Cutout: 8H X 16W
Thickness: ⅛ inch
OUR UNITS ARE LEGS ARE BETTER THAN THE COMPETITION USES SMALL LEGS WHICH CAUSE THE UNITS TO FALL OVER AND CRACK OR NOT BE ABLE TO USE THEM FROM THE FLIMSINESS . 
we engineer the legs to not let the unit fall over. so you may use the sneeze guard ACTUALLY WHILE THE COMPETITIONS UNITS MOVES ALL OVER THE COUNTER WHEN IN USE.
When To Use A Portable Manicure Table Sneeze Guard  
Add a clear physical barrier to tabletops, desks and counters to help reduce the transmission of germs & diseases. Many nail salons, beauty parlors, spas, and doctor's offices have work desks or counters where employees perform manicures on customers and clients. Use a plastic divider shield or sneeze guard at these locations to help stop the spread of diseases transmitted through coughs and sneezes. Protect employees and your customers by using a washable clear divider that creates a physical separation and helps maintain social distancing. This item provides a low-cost and unobtrusive solution for these challenging customer service areas. 
What Are Requirements For A Manicure Sneeze Guard Shield? 
The height of a manicure table, desk or counter sneeze guard should be tall enough to adequately create a physical separation or divider between the workers and the customers or clients. Consideration should be given as to whether the people are in a seated position or if they are standing up. The average height of a person seated in a chair is between 42 inches and 54 inches high. The average height of a person standing is between 5 feet and 6 feet tall. Most manicure desktops are approximately 30 inches tall. Manicure tables and counter heights generally vary from 30 inches to 42 inches tall. A sneeze guard positioned on either should extend upward between 24 and 36 inches to form an effective barrier. This item satisfies those sneeze guard requirements and overall health safety guidelines. 
Plastic Manicure Desk & Table Sneeze Guard Dimensions 
This item is sold as a complete kit. It includes a 1/8 inch thick solid acrylic plex panel with a notch that is large enough to pass through the customer's hands and more. The panel measures 24 inches wide by 24 inches tall. The pass-through hole measures 8 inches high by 16 inches wide. This unit includes two acrylic bases that attach to the plastic panel without tools or fasteners. The depth of this unit measured at the base feet is 8 inches. This sneeze guard can be placed on a desk, countertop or tabletop. Simple to clean - use a soft cloth and soapy water only. Do not use scouring compounds or chemical glass cleaners as they may harm surface. 
---
We Also Recommend