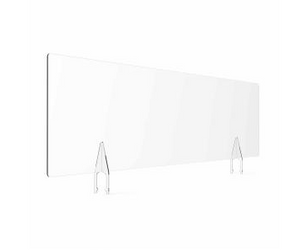 CUBICLE PARTITION EXTENSIONS
Protect Yourself at work today cubical sneeze guards .Stock or Custom sizes Available, configurations, and machining services are available upon request. We customize extensions for your specific application. CALL NOW! (248)-404-0149.
Please specify the width of your existing barrier (2" - 3") and whether the barrier is round or square in the comments section during checkout.
Please remove the protective film before use.
Cubicle partition extensions have been designed to extend existing partitions and cubicles in an office environment. They come with removable plastic brackets that interlock with the partition extension and allow it to fit on top of cubicle walls or partitions, effectively expanding the physical barrier between workspaces. At 1/4" thick, these clear sheets of plastic provide protection for the office by acting as extended sneeze guards. They inhibit the spread of airborne threats such as viruses without disrupting office discussions or workflow. These partition extensions are sturdy and can be sanitized with non-abrasive cleaners. All cubicle partition extension options include a 1/4" thick square block of plastic with grooves that slide on top of intersecting partition extensions to secure them together.
Looking for a size that's not listed? Please call (248) 404-0149 for information and pricing on custom sizes.
Please note that all cubicle partition extension dimensions are nominal.
---
We Also Recommend